ABOUT US
Preservation through Education
Our mission at Sky Falconry is to educate the public through hands-on experiences free flying birds of prey. We aim to preserve the ancient art of falconry, teach raptor biology and the importance of conservation.
Sky Falconry's historic, 40 acre ranch is located in the mountains of San Diego, California. At 2,500 feet elevation, just 30 miles from the coast, this unique combination offers both stunning ocean and expansive mountain views of Cleveland National Forest. Flying the raptor through old growth oak groves, meadows, giant boulders and soaring on the edge of vast wilderness, offers a chance to see the birds of prey maneuver in all of their natural glory.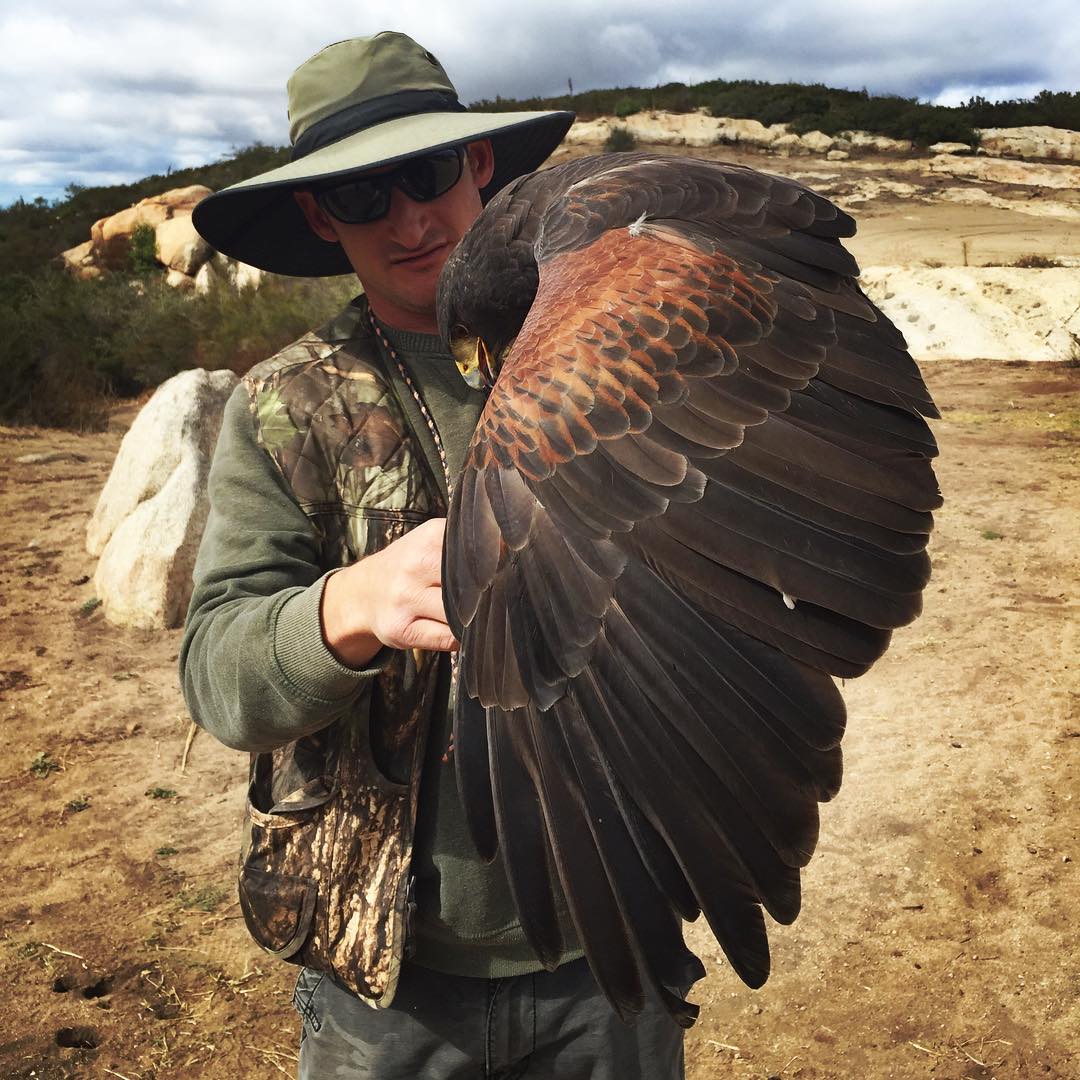 Kirk Sellinger
Co-Owner and Master Falconer
Kirk Sellinger, a Master Falconer, began working in outdoor education in college as a rock climbing instructor and ropes course facilitator. It was there he learned what a profound experience it was for people to push their comfort zone.
Soon after completing a degree in TV/Film production, he traveled the globe for nearly a decade with National Geographic/Lindblad Expeditions as a videographer. There he was stunned at how important it was for people to have experiences in the natural world to truly appreciate and care for it. Kirk still continues to set out to help facilitate such experiences.
In places like Galapagos and Antarctica, where the wildlife is unafraid of humans, Kirk had the opportunity to observe the same nesting areas regularly and thus began his fascination with the lives of birds. He began powered paragliding in 2005 and in 2009 decided to ditch the motor and start free flying to get closer to birds in flight. After settling down in San Diego County, in 2010, he realized his dream of becoming a falconer as well as flying with raptors in a paraglider, an activity known as Parahawking.
Kirk's favorite thing to do now is take people on Hawk Walks in the mountains of San Diego that he loves.
Denise Disharoon
Co-Owner and Master Falconer
Denise Disharoon, a Master Falconer, has a deep passion for birds of prey that traces back to childhood. Her extensive travels and experience leading nature adventures for conservation and education throughout Latin America gave her the opportunity to witness predatory birds in their natural environment. Her keen ability and love in working with raptors paired with her experience in teaching makes her a great fit for Sky Falconry.
A Metalsmith and Jewelry Designer by trade, birds in flight and feathers inspire her jewelry designs handmade from recycled silver, gold and ethically sourced materials that can be found in stores across the United States and on her website.
Harris's Hawk 
Parabuteo unicinctus:
 Often called the "wolves of the sky", Harris's hawks are commonly found hunting in cooperative groups in the Southwest desert. This social behavior is rare among raptor species, making them ideal for falconers and education programs. The large white band across the upper tail feathers and brunt orange fire pattern on the wings make them distinctive among birds of prey.
Red-Tailed Hawk Buteo jamaicensis: The red-tailed hawk is our most common raptor species in North America due to her ability to adapt to different environments. They prefer to hunt ground quarry in open fields and will often be seen soaring the thermals. Not all red-tails will have the brick colored tail feathers. The most distinctive marking will be the black leading edge of the wings seen from below.
Lanner Falcon Falco biarmicus: The lanner falcon is commonly found in open, arid terrain of Africa, southeast Europe and Asia. They primarily prey on other birds in flight, occasionally hunting small mammals, reptiles and large insects. One of the oldest species of falcons, they have been used in falconry for thousands of years.
Yellow-Headed Vulture Cathartes burrovianus: Cousin to the turkey vulture, the yellow-headed vulture is common to Central & South America. Their most distinct feature is the brilliant orange and yellow colored head. They primarily feed on carrion found through their extraordinary sense of smell but are known to occasionally hunt small prey. One adaption that is remarkable, these vultures will urinate on their legs to disinfect after feeding.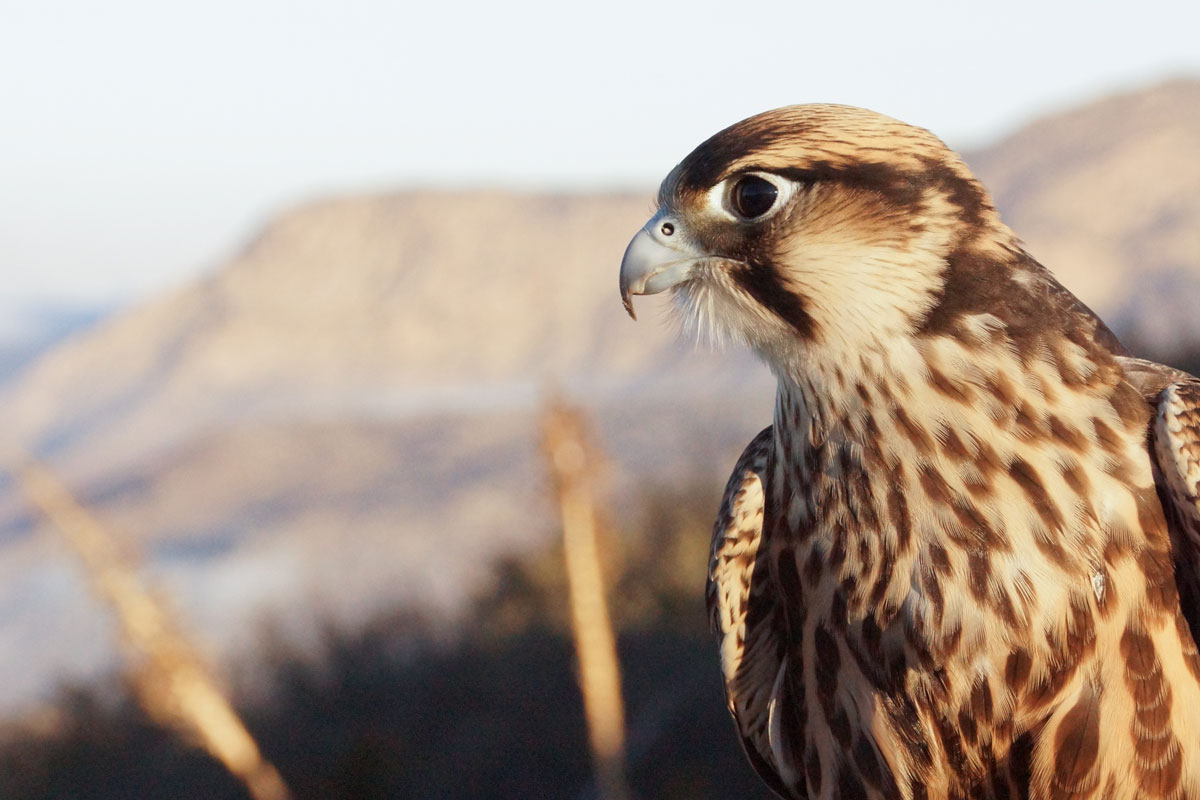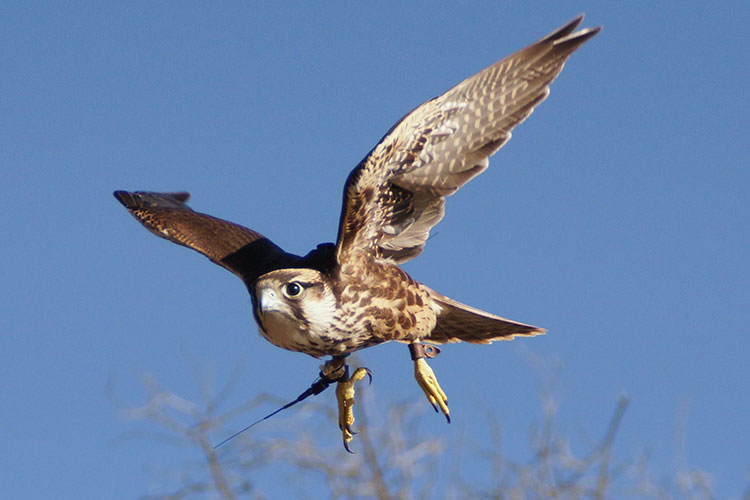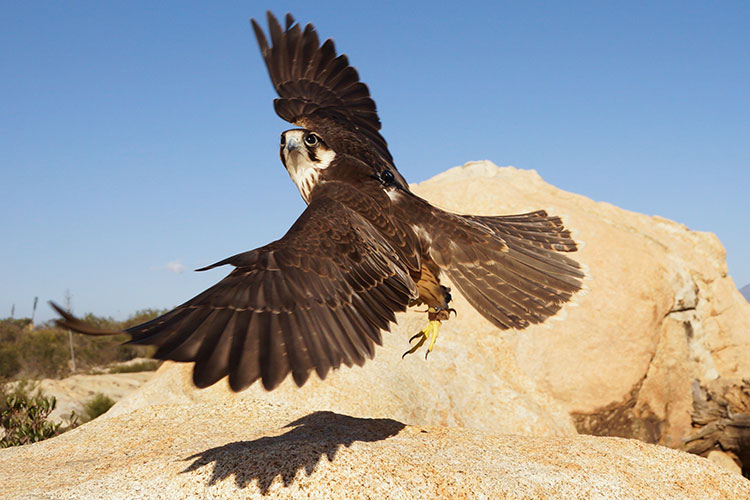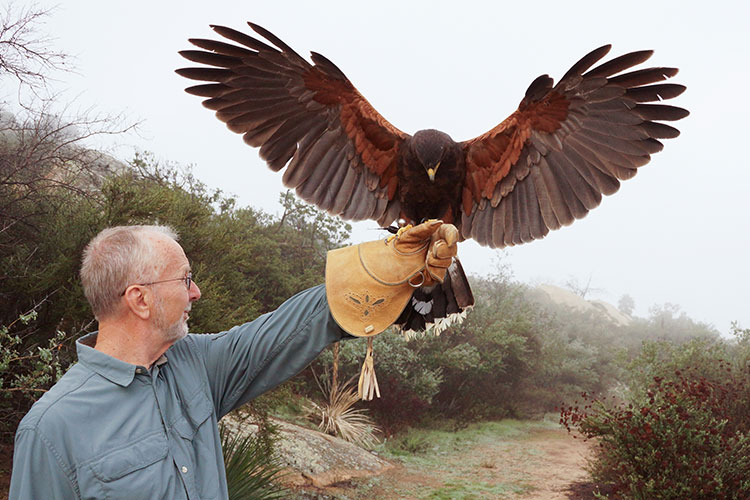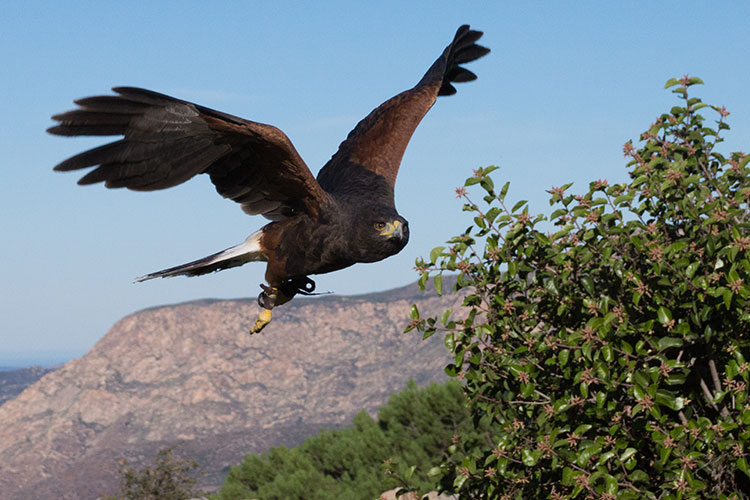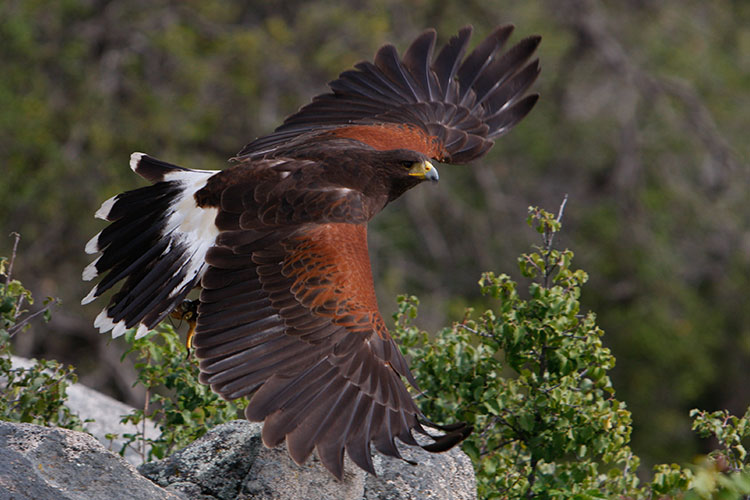 At
Sky Falconry
we work to educate the public on the multitude of issues that raptors face in our modern world. Our hope is that through an intimate, hands-on experience with birds of prey, our guests will be inspired to get behind conservation efforts working to protect birds and their natural habitats.  Below are organizations we support.
The American Bird Conservancy is one such organization that is doing amazing work with a sound basis in science. Their unequivocal belief that conserving birds and their natural habitats benefits all species, including humans, is one we stand firmly behind.
Learn more about American Bird Conservancy.
The Peregrine Fund is an organization that works globally to save birds of prey from extinction. They began as a small group of falconers that successfully brought the peregrine falcon back from the brink of extinction in the 70's. The knowledge and understanding gained through their work with birds of prey has expanded their efforts into 65 countries helping over 100 species worldwide.
Learn more about the Peregrine Fund
Rehabilitation Centers in San Diego County
All raptors native to North America are strictly protected by federal law. In the event that you should find a sick or injured raptor, please contact one of the following organizations that are educated and licensed to properly rehabilitate birds of prey.
San Diego County
Skyhunters – Raptor Rehabilitator, Alpine, CA 619-445-6565
Project Wildlife – Rehabilitates all birds, San Diego, CA 619-225-9453
Fund for Animals – Raptor Rehabilitator, Ramona, CA 760-789-2324
San Diego County Animal Control – For all injured animals, 619-236-4250
For other counties in California, please refer to here.
How you can help
Never throw anything out your car window, including organic materials.
Never use lead bullets.
Never use rat, gopher, pigeon or any other poisons.
Build nest boxes.
Eat organic, pesticides poison humans, animals and the environment as a whole.
Put reflectors on large windows.
Support local conservation efforts.