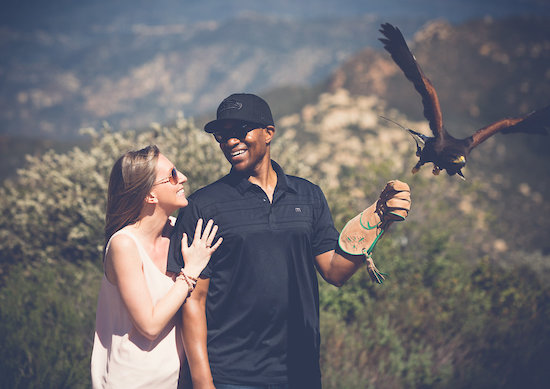 Sky Falconry, located in Alpine just 30 miles from the coast of San Diego, offers a variety of interactive falconry classes with raptors. It is one of a few raptor schools in the US where non-licensed falconers can put on a glove and fly a bird of prey. We teach about the ancient art of falconry, raptor biology and conservation in all of our class offerings, with something for everyone.
One of our favorites is the Private Raptor Experience. This is the only class at Sky Falconry where our raptor encounter includes flying not only a hawk, but also a falcon. Falcons are much more advanced falconry birds. They fly farther, higher and faster. Our Private Raptor Experience opens you the world of raptors, working with these two species back to back gives participants an intimate window into their distinct flying and hunting skills.
Prepare to be amazed! Fly a raptor in San Diego, join us for this rare opportunity to free fly two birds of prey in their natural habitat while enjoying stunning views of the coastline and San Diego Mountains!