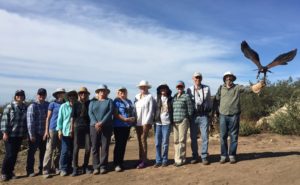 Sky Falconry joined with San Diego Audubon Society to offer a Falconry Lesson at Sky Falconry's private ranch in Alpine, California. Birders from all over San Diego County joined the event to learn more about Harris' Hawks with engaging educational talks and free flight experiences. The Audubon Society has worked tirelessly for over a century to protect birds and their habitats. Their pursuit to raise awareness through education and experience goes hand in hand with Sky Falconry's mission of preservation through education. We believe that an intimate interaction with wildlife enhances the desire to take action for conservation and deepens one's appreciation for the natural world we live in.
Sky Falconry offers the rare opportunity for everyone to free fly a bird of prey in it's natural habitat and ranks among one of the top animal encounters in Southern California. Interactions with our trained birds of prey give an intimate view of birds of prey flying, up close and personal, while learning their biology and plights in the natural world. We offer a variety of falconry experiences in California, a short distance from coastal San Diego.
A huge thank you to the San Diego Audubon Society for the amazing work you do to protect all birds and their wild habitats. We were honored to share our morning with you!
What is falconry? Falconry evokes images of queens and kings on horseback, birds of prey with hoods, gloved fists….but what is falconry?
The technical definition of falconry is hunting with a bird of prey to take quarry in it's natural habitat. The types of raptors used in falconry are eagles, owls, hawks, falcons and some species of old world vultures. Falconry is one of our oldest hunting traditions dating back thousands of years.  It was used as a main source for obtaining food for our ancestors. Today, falconry is still used as such however, hunting in general is actually more associated to nature conservation than one might think. All hunters must obtain a hunting license through US Fish and Wildlife Service. The funds generated through hunting licenses are a main source of funding for conservation programs that benefit all wildlife.
At Sky Falconry we aim to teach the need for conservation through preservation of this ancient art of hunting. Falconry allows one to not only connect through a working relationship with a raptor, but also the natural world around them. Sky Falconry offers everyone the opportunity to experience the magic of interacting with a bird of prey through falconry classes in California. Our private ranch in Alpine, only 30 miles from the coast of San Diego, draws those interested in birds of prey classes and animal interactions from not only Southern California, but all over the United States. Sky Falconry is one of the few birds of prey schools that offer an intimate window into the world of falconry and these majestic creatures. To see birds of prey flying in the pristine beauty offered by the natural setting of our ranch that is surrounded by hundreds of acres of national forest is a rare and wonderful opportunity. We invite you to join us for one of our Basic Falconry Lessons, Hawk Walks, or the ultimate Private Raptor Experience!
Helen Macdonald's best-selling book H Is for Hawk, is a favorite here at Sky Falconry. This book walks the reader through her journey as a grieving daughter who found healing in training a goshawk.  Her recent story has now premiered on BBC and PBS Nature, where she digs deeper into the world of raptors by following a family of goshawks in the wild and raising one of her own.
We were honored to have hosted the composer of the music for H is for Hawk, Cody Westheimer, at our private Sky Falconry Ranch in Alpine, California, 30 miles east of San Diego. Cody joined us from Los Angeles for a Private Hawk Walk. Being a raptor enthusiast, he felt compelled to experience what it was like to free fly a bird of prey to the glove on this outdoor raptor adventure offered in Southern California. Cody's passion was contagious. We all had an amazing time, including our Harris' Hawk, Hayduke!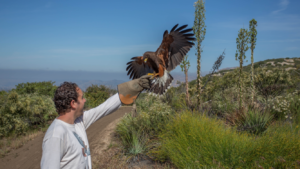 Sky Falconry classes offer everyone the opportunity to free fly a trained bird of prey to the glove.